I was all set to do a post on last week's mini Olympics and a little bit of the Ooey Gooey Olympics, but I have misplaced my camera. It is possibly someplace in the house, car, or at work. That narrows it down a bit! HA! HA!
I have been fighting some kind of bug since Wednesday evening.Trying not to let it slow me down too much as I have a lot I want and NEED to do.
I am a huge fan of Pinterest. OK, I am addicted! I've had good success with 95% of the recipes that I have pinned there. I found this recipe for White Chocolate Raspberry Muffins and knew I had to try them. Raspberries? White Chocolate? What is not to love?
They turned out positively scrumptious! They are especially good warm. A light buttery muffin with warm gooey raspberries. A brown sugar streusal topping adds even more sweetness! When I make them again, I might turn down the suggested temperature a little bit. I think my oven tends to run hot. I also use dark muffins tins. Another suggestion is to cut up any clumps that may have formed in the white chocolate chip bag. The big clumps of white chocolate sank to the bottom of the muffin . Raspberry White Chocolate Muffins are a definite keeper for my recipe collection.
I love to read! Reading for me tends to come in spurts. I will read four or five books in and row and then not read for four or five months. I am back on a reading "binge" again.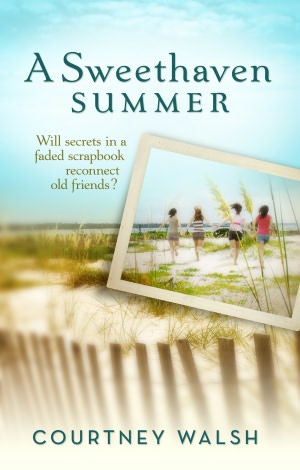 My latest discovery is called A Sweethaven Summer by Courtney Walsh. I have followed Courtney's blog for years. She is a Christian,a wife,mother, writer, blogger, and scrapbooker. She really comes across as a very sweet and genuine person. Courtney is excellent at visiting other people's blogs and leaving sweet comments. As I am writing this post, she sent a very nice comment to a Facebook message I sent to her. I love how the web offers the ability to connect instantly to artists, writers, and musicians. I would love to meet her someday!
I started A Sweethaven Summer late on Friday evening and woke up early to finish it on Saturday morning. It was wonderful. Courtney has the gift of making you feel like you are there inside the story. She draws you in with a delicious setting and very likeable characters. You immediately feel as if you know them.
A Sweethaven Summer falls under the Christian fiction category. While the themes of faith, love, and forgivness permiate the book, the Christianess

(I just made that up)

doesn't slap you the face. It is woven beautifully into the story. I would feel comfortable sharing this book equally with my Christian and non-Christian friends.
I don't want to give away any of the story. You just need to read it for yourself. Right now, A Sweethaven summer is on sale for Kindle and Nook for $.99. A beautifully written, engaging, and uplifting book for $.99, you can't go wrong!
Have a great week everyone!